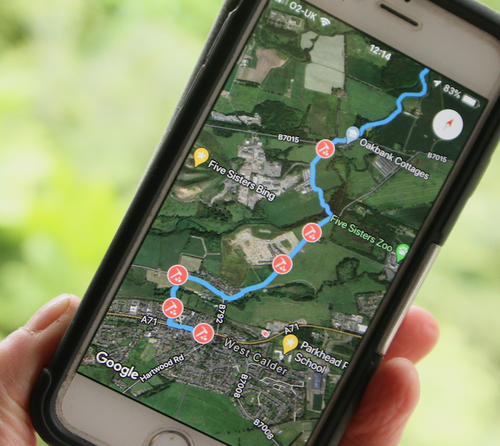 It's easy to find the Shale Trail and discover it's rich stories using this site at home or on the trail. You can find wonderful stories of Scotland's Oil Rush on this site and by using the QR codes on each of the waymarker posts. There are also exciting stories compiled by children from West Lothian's schools. There are links on the marker posts to these too.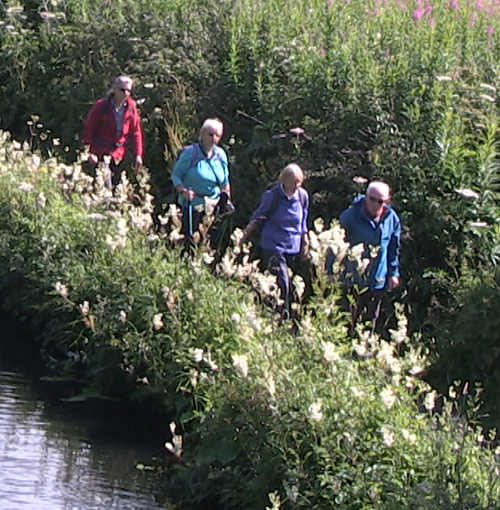 Walking the Shale Trail
The Shale Trail is a 16 mile waymarked trail across West Lothian linking sites, features and communities relating to the area's rich oil shale heritage.
Stretching from West Calder in the south-west to Winchburgh in the north-east, wandering through Livingston, along the Almond river, then winding its way up to Uphall, meandering along the Broxburn burn, to join the Union Canal and on to Winchburgh.
So wander for a day and dig into the heaps of history that lies under our green footpath network in West Lothian.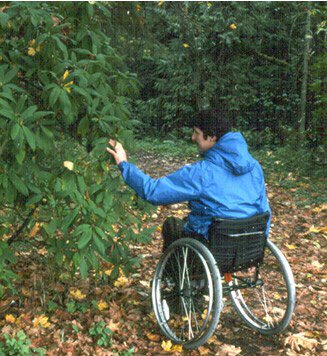 The trail ranges from easy to moderate, based on the paths for all criteria, but as a whole it would be considered strenuous because of its 16-mile length. The gradient of the route is variable with long easily accessible areas and sections with sharp inclines.
The surface of the path route is also variable ranging from small sections of woodland track which will become muddy to sections of tarmacked path. The route is relatively free of obstacles although a few sections have pinch points that restrict access for cyclist and disability users.
Taking the Train to the Shale Trail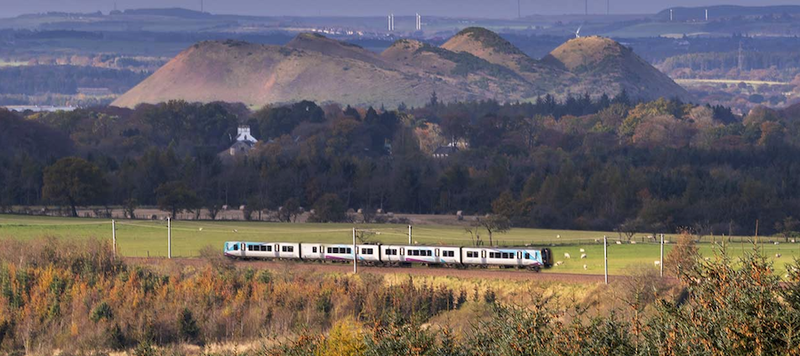 There are several train stations that make access the Shale Trial an easy option for a day out.
To plan your travel by train go to https://www.scotrail.co.uk/ (prefer to be shown as Scotrail rather than link)
Train stations on the Trail
West Calder
West Calder Railway Station is a few minutes' walk to the start of the trail at main square in West Calder. From here you can follow the whole trail to Winchburgh.
Uphall
Uphall Railway Station is situated directly on the trail nearly at its centre. From Uphall station you can following the trail in two directions towards West Calder or to Winchburgh.
Train Stations near to the Trail
There are stations that a near to the trail but would require cycling or hopping on a bus to reach the trail.
Livingston South
From Livingston South Train Station, it's a short cycle ride to join the trail along the Almond river.
Linlithgow.
From Linlithgow Railway Station you can join the Shale Trail at Winchburgh, it's an hour cycle along the canal.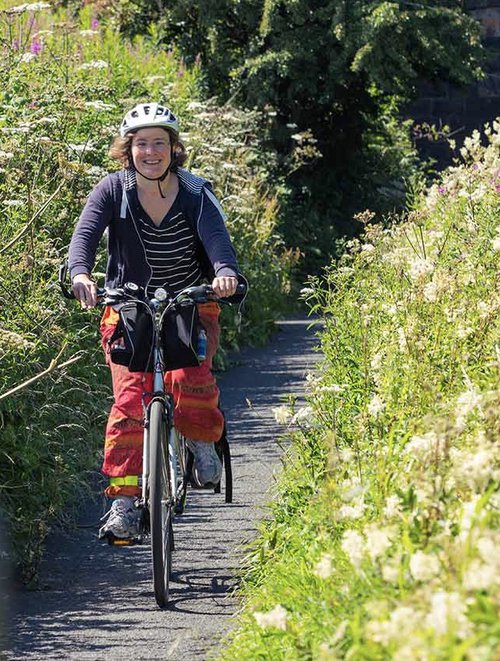 Cycling to the Shale Trail
The whole trail is open to cyclists and you can access the trail at any point along the route. Use the Shale Trails interactive map to help you plan your route.
From Edinburgh you can join the shale trail by following the Route 75 and route 754
Using route 75 you can join the Shale Trail at Almond and Calderwood Country Park. From the Almondell viaduct you can join the Shale trail and travel in two directions, through Livingston and onto West Calder or towards Uphall and on to Winchburgh.
You can also use Route 754 to join the Shale Trail in Broxburn. You can use the union canal to go onto winchburgh or alternatively join the shale trail just before Port Buchan by crossing the canal at a bridge near Parklands in Broxburn and onto West Calder.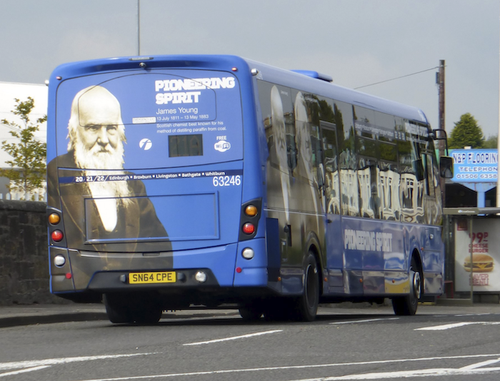 Buses and Coaches
Public Transport
The Shale Trail is accessible by public transport and you can join the route a many points. For up to date information visit Traceline Scotlands national public transport information service.
Traveline Scotland – Call: 0871 200 22 33
Please note that call charges will apply.
The area is serviced by several public transport companies to plan your journey and help you explore the shale trail visit download the travel apps
First Group
https://www.firstgroup.com/south-east-and-central-scotland/plan-journey/traveline-app
and
Lothian Buses
Food and Accommodation
For other accommodation, restaurants and local attractions, try www.visitscotland.com.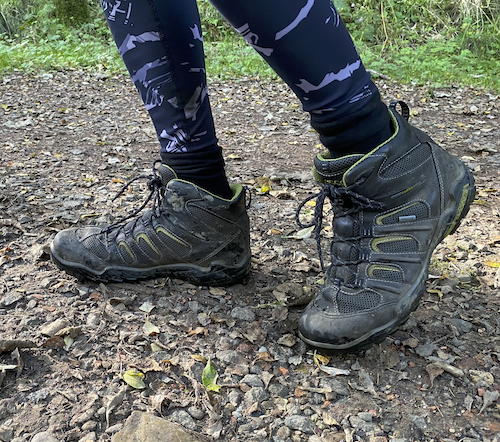 What to take with you
The Shale Trail and the short walks off the route are mostly level easy walking, with many access points on to the trail..  No previous walking experience is necessary, but if you intend to walk the entire route then a reasonable level of fitness and some advance training will add to your enjoyment.  Parts of the Shale Trail offer a wonderful feeling of countryside walking even though you are following an industrial route through some urban areas. Suitable footwear, warm and waterproof clothing, maps, food and drink are recommended.
Preparing for your walk
Always check the weather forecast and prepare yourself accordingly. Remember that weather conditions can change rapidly and that hot weather, causing sunburn and/ or dehydration, can be just as debilitating as rain or snow. Always carry adequate cover for your body in all conditions.
Walking responsibly
The Scottish Outdoor Access Code (www.outdooraccess-scotland.com) outlines a commonsense approach to enjoying the countryside, which should be followed when walking the Shale Trail.
Be safe – plan ahead and follow any signs.
Leave gates and property as you find them.
Take your litter home, or dispose of it appropriately at the next village or town.
Keep dogs under close control, preferably on a short lead.
Consider others enjoying the countryside, and those who own or make their living from the land.
Thank you for your cooperation, which will help to ensure that these walks are available for those who follow in your footsteps in future years.
Walking with your Dog
If you choose to take your dog with you, please keep it under proper control (ideally on a short lead) to avoid disturbing wildlife or livestock and to ensure you don't interfere with other people's enjoyment of the countryside.
Cycling
The Shale Trail was set up primarily as a multi-purpose route and can be used by walkers and cyclists.