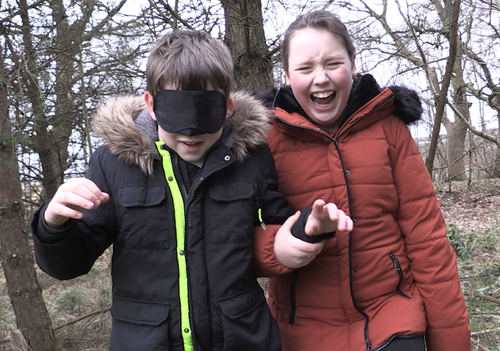 The Shale Trail Schools' Work
Over 7 months between 2019 - 2020 five West Lothian Primary schools compiled material for 18 web pages of the Shale Trail project. It was always planned that their work would have equal standing with the adult pages. Learning was enabled over 50 sessions with around 170 children in 5 schools over this period.
The work was carefully planned to cover a wide area of outcomes from the Curriculum for Excellence and provided great focus for inter-disciplinary learning, rooted in the local area. Each kids' page has its own QR marker on the 18 interpretation points along the trail.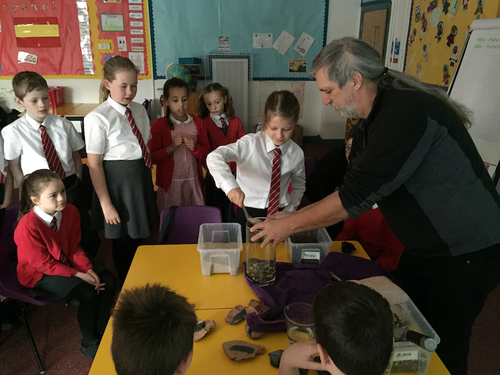 By Children, for Children
The kids' pages have been written, designed and created by children, for children, to tell the story of West Lothian's shale boom. Critically, they had to explore the role of a digital journalist in telling stories which people all over the world will want to read. They had to understand how text, images, video need to work together on a website. Important questions were addressed such as "how do we know if this story is true?".
They worked on filmed interviews, animations and dramatic scripts, evaluated their work and edited it closely.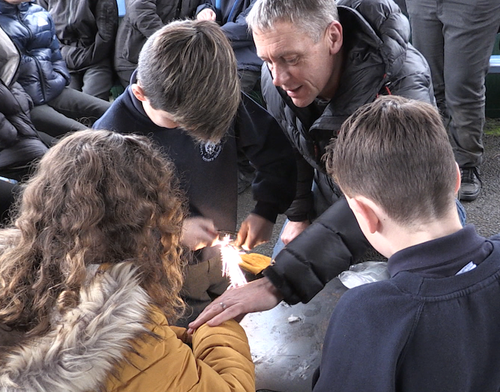 The Knowledge
The schools worked with Written in Film (Trina McKendrick and Kev Theaker) who ran workshops and small group work over 7 months. The children had to be build up their knowledge of these areas:
The focus of the workshops and groups were:
The Carboniferous: ancient rocks and fossils, how shale was formed, how it was mined
Digital journalism: how to tell a story using text, drawing, digital images and video
Shale, Oil and Light: how oil shale was processed into oil and its by products
Shale people: what was it like to live in a shale village and work in a shale mine and or oilworks?
Island Refuges: the past, present and future of bings: their potential for being wildlife sanctuaries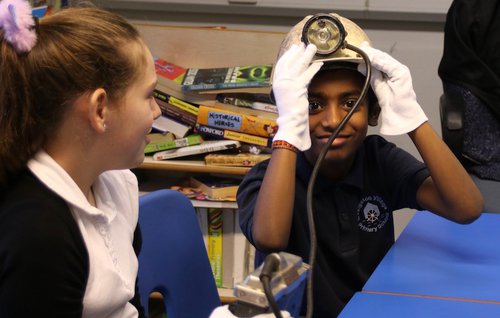 Our Partners
Extra work was done by Written in Film, with Parkhead Primary School, West Calder for their work on their John Muir Award. This included sensory woodland walks, poetry walks and poetry workshops and creation of woodland art.
Maureen Liddell (West Lothian Museum Service) delivered workshops using object handling boxes.
Tom McKendrick (Head of Video/ Audio - The Age) delivered workshops on Digital Journalism.
The Scottish Shale Museum provided a handling box for children and access to invaluable archive material.
Heath Brown (Edinburgh Greenspace Trust) led exciting science sessions on Oil, Fire and Light.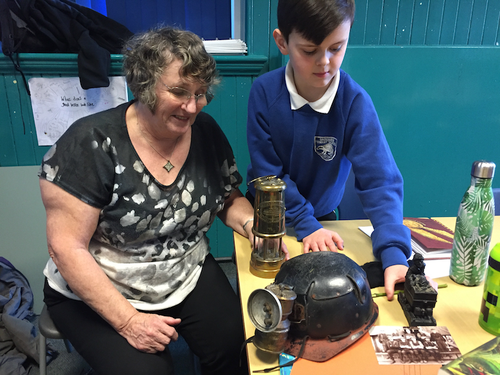 School and home
The children's work was collated and edited by Trina McKendrick ready for publishing.
Some of this work had to be worked on at home due to the coronavirus pandemic.
We are hugely grateful to the families and staff who supported the children during the whole project.

By Broxburn Primary
(
16. New Lamps for Old
,
3. Down in the Danger Zone
,
18. Cramped Cottages
,
17. The Bing's the Thing
)
Watch our Shale Trail Films here
The Bing"s the Thing
Stories from West Lothian's beautiful bings
Poetry and Art Walk
Finding words in the woodland
John McGarty
The sad story of the first casualty of the Burngrange disaster in 1947, as told by his great niece.
Lizzie the Lizard
Was she the first reptile in the world?
Cramped Cottages
Living in a shale miner's cottage wasn't much fun
Digging Deep
Watch how West Lothian's shale mines grew
New Lamps for Old
How safe were shale miners' lamps?
Big Insects
Sticky swamps, giant insects and enormous trees
Willie Dornan
A sad story from 1927 about a Hibs star player
Sensing the Woods
Sharpening our senses for a different view of the woods
How to make a Roman Lamp
You just need clay and to like getting messy