Alan Bailey, Hibs manager in 1937, announces some sad news (Reconstruction)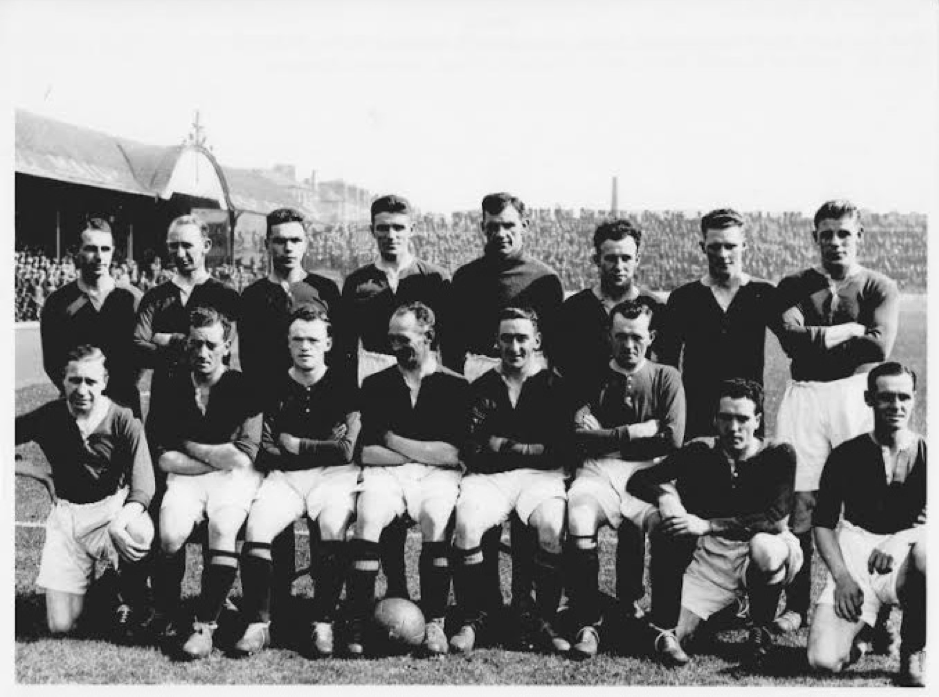 Willie Dornan far right, front row.
Source: Scottish Shale Museum
Willie Dornan lived in Pumpherston with this wife and son. He worked at the oil works in Pumpherston. He was also a very well known full-back for Hibs (Hibernian) in Edinburgh. Between 1914-1927, Willie played 357 games for Hibs. Only a few Hibs players have played more games than this. In 1923 he played against Celtic in the Scottish Cup final before 80,000 spectators but lost 1-0.
SFA Cup Final 1923 - Hibs versus Celtic
Can you spot Willie Dornan?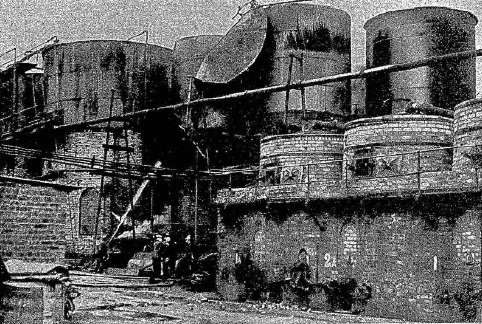 Oil tanks at Pumpherston Oil Refinery 1937 after the explosion
Willie Dornan lived in Pumpherston, West Lothian. He worked at the oil refinery there. In May 1937 he was working on top of one of 20 oil tanks. There was a huge explosion explosion which blew the top off the tank he was standing on. He was either thrown to the ground and badly injured. He was rushed to hospital but died of his injuries. The fire lit up the sky as far away as Carstairs.
Trapped Between Blazing Oil Tanks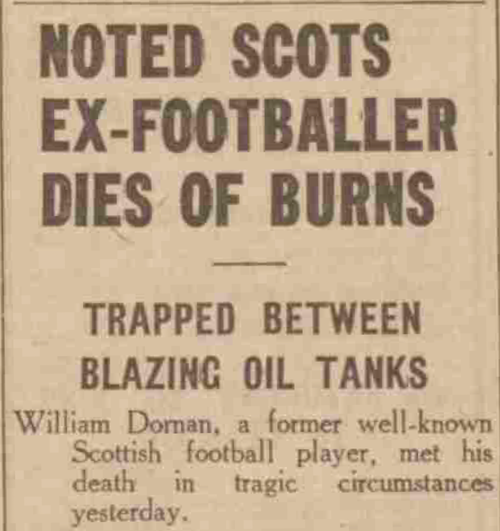 NOTED SCOTS EX-FOOTBALLER DIES OF BURNS TRAPPED BETWEEN BLAZING OIL TANKS William Dornan, a former well-known Scottish football player, met his death in tragic circumstances yesterday. was trapped between two blazing tanks of oil while engaged on his duties at oil works near Broxburn, West Lothian, and was so severely burned that he died few hours later in Edinburgh Royal Infirmary. The fire followed three separate explosions, the force of which blew the tops off two tanks. These immediately burst into flames. Dornan was working on a platform about 30 feet from the ground taking measurements of the quantity of shale oil in storage, when he was thrown into the air and fell between the two tanks. ...... Dornan was a member of the Hibernian tram which in seasons 1922-23 and 1923-24 were runners-up in the Scottish Cup competition. was one the finest players who had taken part in the game in Scotland.
Dundee Courier 29/5/37