On the top of the viaduct you are 23m (75 feet) above the River Almond. The stunning structure was built without a handrail, and a low stone parapet of less than a metre high, or indeed a walkway at all. It was a dangerous bridge for the unwary to cross.
The elegant Camps Viaduct was originally built for transporting limestone, about 160 years ago. It was a single track railway line and only ever worked as a freight line, but really it became a key part of the network of small railways that served the oil industry. With the building of the massive Pumpherston Oil Works the railway began to be busier. In the early twentieth century crude oil from Tarbrax, in South Lanarkshire, was taken across the viaduct to Pumpherston for refining and later it connected works at West Calder to Pumpherston.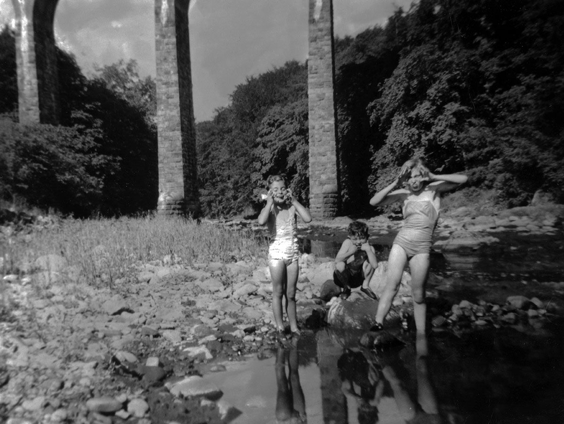 Evelyn, Dave, and Maureen Newton enjoy the river beneath the viaduct c1952. Source: West Lothian Heritage
There was one serious train crash in 1880 which threw loaded wagons of limestone, and the brake van over the side of the viaduct. Three men were killed in the accident, the guard, his assistant and 15 year old Thomas Bishop, who was only on the train because he'd had to deliver a telegraph message.
A greater danger was walking across the bridge, as it was used as a footpath to the oil works from East Calder. It is easy to walk across now, with a handrail and in daylight. Imagine coming home from work, in the dark knowing that all that stopped you falling into the river was a low stone wall. Now imagine doing that after a few drinks. Which is exactly what happened to William Keattings, in 1898 who only broke his thigh.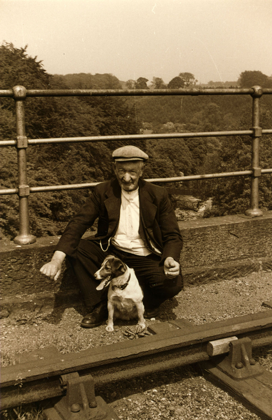 Pumpherston man Dave Spat, and dog, pictured on the viaduct in 1957 Source: West Lothian Heritage
The lack of a parapet was not only dangerous to people. The local hunt, the Linlithgowshire and Stirlingshire Hunt lost 'four couples of the best hounds' when they leapt over the edge.
Enjoy the walk.