The River Almond is a most unnatural river, despite appearances. Looking at it today, it seems like a very nice, gentle river. It has been made to work, reshaped over many years. Along this length the Almond was slowed down by weirs, channelled down lades, controlled by sluices and used to power all sorts of mills.
Now work is underway to bring it back to something more like a natural watercourse.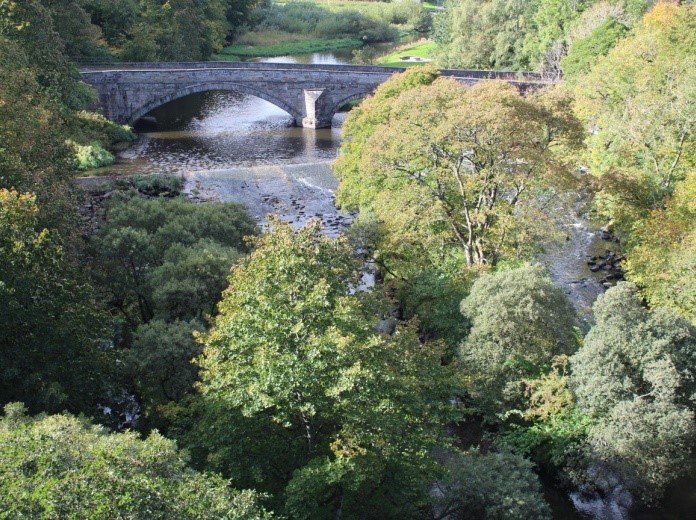 The River Almond looking idyllic at Howden Bridge, but it wasn't always so peaceful. Photo: RiverLife
Yellow stream or black stream?
The heavy industry that shaped the river, and forced it to work, did not treat the water well, or the wildlife. During the West Lothian oil boom the streams changed colour. You didn't want to fall in the yellow streams; your clothes would dissolve because of the acid. The black streams weren't any better, because you wouldn't be able to clean the thick tar off them. Either way, you'd be looking at a new wardrobe. The Almond had a distinctive chemical smell as it passed through Livingston.
The river is much cleaner now, thanks to stricter pollution controls and the collapse of the shale mining and oil industry. Yet the river still needs work to make it more fish friendly and welcoming for wildlife.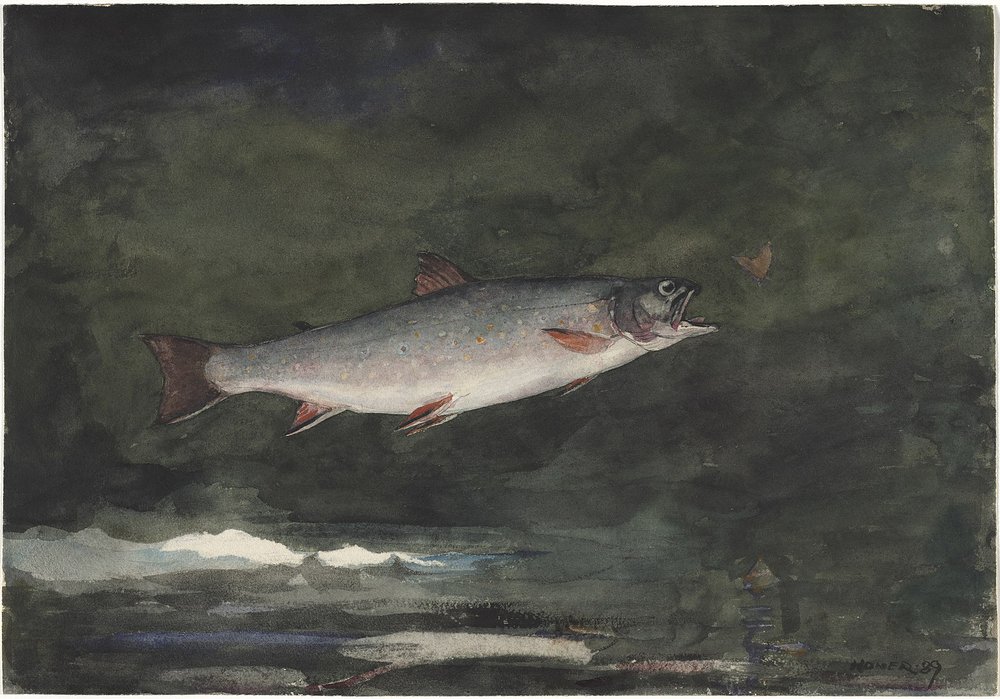 A leaping trout, painted by Winslow Homer in 1889. Image Wikimedia Commons
Positive wildlife engineering
Heavy engineering returned to the river in 2019, but this time it was to undo some of the previous work. The river was diverted and nine thousand tonnes of rock brought in to create pools, and resting places for fish on their way upstream to breed. The old weir was like a locked door to migrating trout and salmon. Now there's a chance to see fish leaping up the river again.
Other wildlife will also benefit from the rocky road so keep an eye on it as it develops, hopefully more plants and insects will colonise it and it will look more like the natural river it should be.
The project was the work of RiverLife Almond and Avon, part of the Forth Rivers Trust.
Look at this film to see the scale of the work involved