What a lovely, peaceful spot on the river? We all like to sit by gentle flowing water and watch the world go by. If you are quiet, who knows what you might see?
"This peaceful spot is not by accident but by industrial design."
Open Cast Mine
The West Lothian oil industry relied on a steady supply of oil shale to feed the retorts. Mostly this was mined but here it was quarried. During World War Two, and until 1950 this area was an open cast mine. Partly this was due to a shortage of workers but it is also cheaper and more efficient than deep mining. Livingston Quarry was three quarries, which were worked until 1957. During its active life the quarry produced over half a million tons of shale, but only employed twenty six men.
Open cast mining, West Lothian c 1948. Source: Almond Valley Heritage Trust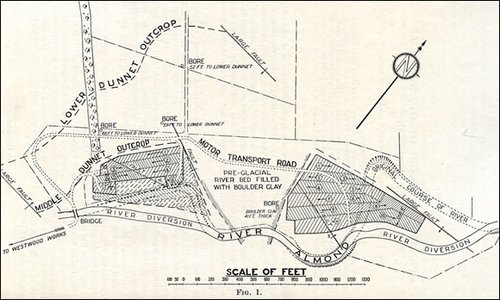 Beautiful Pools
To create the quarry the River Almond was diverted away from the shale deposits. Restoration of the quarries afterwards means that there is very little to see of the extensive workings now. Most of the quarry was turned back into farmland, but the river was allowed to create these beautiful pools.
Layout of open cast workings c.1950.
From Caldwell, Stein & Keddie, Open-cast Working of Oil Shale in Livingston, Scottish Shale Museum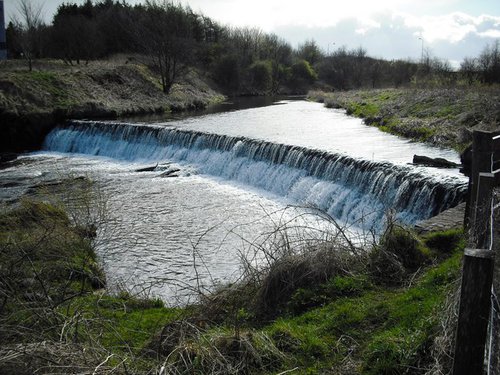 New Growth
The Almond has been a hard working river for many years, used to power all sorts of water mills in the past. During the oil boom it flowed through heavy industry and a very polluted landscape. Now it is a thriving river again. Take your time wandering here.
River Almond Weir: water was drawn off here to power Livingston Mill.
Source: Wikipedia Commons