As you pass through Uphall it is hard to see that it was the centre of the shale oil industry in the early twentieth century. If you explore a bit you can see where a little bit of the Garden City movement took root in the middle of the industrial development. Middleton Hall went from a prosperous mansion, to the industrial headquarters of the Scottish Oil Company.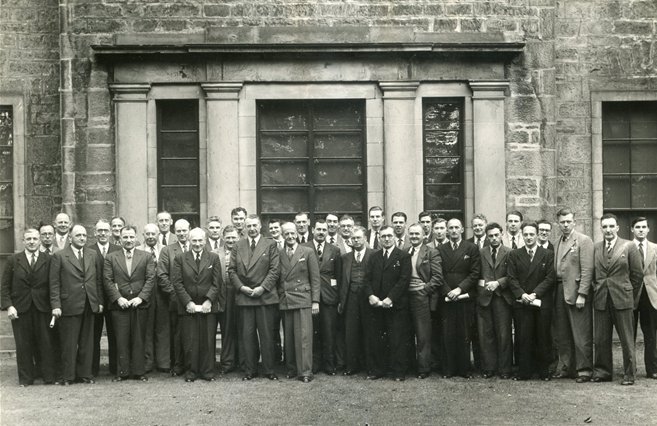 Staff at Middleton Hall in the 1950s. Source: Almond Valley Heritage Trust
Middleton Hall is now a care home, but the shale trail route takes you through some interesting developments in Uphall's history. Once you've crossed over Loaninghill Road, you are in what were the grounds of Middleton Hall. Try to picture a long tree lined driveway, landscaped grounds with mature trees. At the bottom of the slope (where the A89 bypasses Uphall and Broxburn) there's a dovecot and a walled garden. An appropriate setting for a fine house.
When you walk along Middleton Road however, you are travelling into the twentieth century landscape. The houses here are part of Scottish Oils development in the 1920s, inspired by the Garden City movement. This was the idea behind Welwyn Garden City and Letchworth and eventually led to the new towns, such as Livingston and Cumbernauld. The idea is to combine greenspace and housing to create a better quality of life for the residents.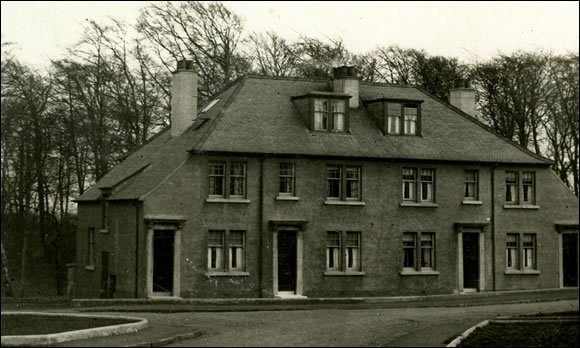 A better style of housing for management in the Uphall 'Garden City" Source: Almond Valley Heritage Trust
The Hall became the headquarters of Scottish Oils Ltd in 1920 and these houses were built for some of the managers and staff of the company. Definitely a better class of housing than that provided for the miners and oil workers. Middleton was also the administrative centre of the industry and the engineering workshops and training centre for the apprentices until 1967.
It is a complex history for what seems an unremarkable street.